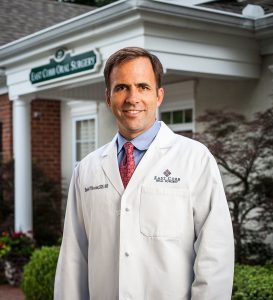 Daniel P. Brunner, DDS, MD
Dr. Daniel Brunner was born and raised in Huntington Beach, California. He attended the University of Missouri-Kansas City School of Dentistry where he graduated with highest honors, summa cum laude, and received his Doctor of Dental Surgery. He then returned to Southern California where he attended the University of Southern California, Keck School of Medicine, and received his Doctor of Medicine. Dr. Brunner completed his residency in oral and maxillofacial surgery at the University of Southern California. He had the privilege of serving as Chief Resident of the Oral and Maxillofacial Surgery Department at Los Angeles County Hospital, the largest trauma hospital in the country, from 2001-2002. Following his oral and maxillofacial surgery residency, Dr. Brunner went on to pursue an additional year of surgical training in general surgery at St. Joseph Hospital in Denver, Colorado. Dr. Brunner's additional medical training sets him apart from most other oral and maxillofacial surgeons in that he is able to diagnose and treat his patients with a complete medical and dental understanding.
Dr. Brunner moved to Atlanta, Georgia, in 2003, where he established his oral and maxillofacial surgery practice, East Cobb Oral Surgery (now renamed Brunner BioHealth). In his private practice, Dr. Brunner specializes in Dento-Alveolar surgery, dental implant surgery and bone grafting surgery. In 2007, Dr. Brunner founded Impact Health International, a US 501(c)(3) nonprofit organization bringing dental education and services to third world countries. Since 2007, Impact Health International has donated over $2,500,000 in dental services to numerous third world countries.
Dr. Brunner is a strong advocate of continuing dental education, both personally as well as professionally. He attends over 100 hours of continuing dental and medical education a year, is active in dental research and keeps current on the latest advancements in dental implant and bone reconstructive surgery, while also advocating to others the importance of continuing advanced dental education. Dr. Brunner created a hands-on, live patient surgery, dental implant training program, Implants in Paradise, where he teaches dentists and provides hands-on training for dentists to learn dental implant placement, sinus augmentation and bone grafting techniques on live patients in the Dominican Republic. In addition, he has created an online dental database of continuing education programs, Dental CE in Paradise, for dentists to complete their continuing education requirements.
Dr. Brunner is a highly esteemed lecturer and has had the privilege to lecture both domestically and internationally. He currently lectures for MIS Implants at their Dental Implant Training Centers (DITC) located throughout the country, as well as for the Academy of General Dentistry Mastertrack continuing dental education program. Most recently Dr. Brunner was a guest lecturer for the American Academy of Implant Dentistry (AAID) for their 2013 Annual Convention. He was also the keynote speaker for the Latin American Academy of Osseointegrated Dental Implants (LAODI) annual conference. Dr. Brunner has also published research articles in various dental journals.
Dr. Brunner has been married to his wife, Melissa, for 21 years and they have four children, Daniel Jr., Hannah, Rachel and Paul. In his spare time, Dr. Brunner enjoys surfing, wake boarding, English fox hunting and organic farming.
If you have any questions or to schedule a consultation with our dental expert, Dr. Brunner, or contact our team today!